Elite traphhel inpho.
UNDERGROUND CONFERENCE is held in the forests near Bingen, a small city located at the river rhine (Rhein) between Mainz and Cologne. It's perfectly reachable by airplane, train, car and even ROLLERSCHNITZEL. On this page we have gathered lots of information and hints on how to get to UNDERGROUND CONFERENCE the cheapest and most convenient way.
Going by car
Bingen is connected through the german motorways A60 and A61, which are connected to all major german motorways (A1, A3, A4, A5, A6). Here are a few suggested routes: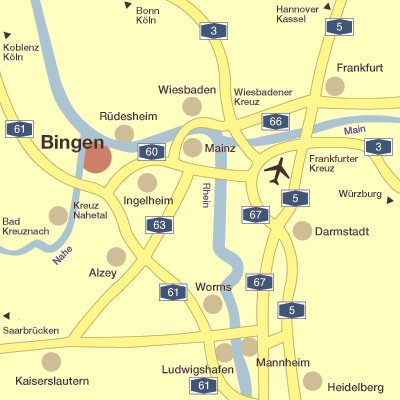 North
Get on the A7 direction Hannover (if you come from Sweden, get on A1 first till you reach A7 after Hamburg). Prepare for a loooooong ride till you get to the Hattenbacher Dreieck where you then leave the A7 to get on A5 direction Frankfurt/Main. Pass the Frankfurter Nordwestkreuz. Some km's later you will arrive at the Frankfurter Kreuz, A3 is the motorway to be then. Follow the signs to Mainz/Wiesbaden/Bingen (you'll see A67 and some others ;). You'll end up on the A60, direction Bingen. Follow it and see below.
If you are coming from north-west (Ruhr area, netherlands), check the directions for "west".
In case you care: Two exits before Bingen (Ingelheim-West/Gau-Algesheim), there is a McDonalds.
West
Coming from france, get on the A6 at Saarbrücken. At Kreuz Frankenthal you'll see the A61. Go there, direction Mainz/Alzey/Worms. Exit at Bingen (see below).
For those coming from Venlo/Aachen/Netherlands/Cologne: Get on the A1 which later merges into the A61. Pretty easy.
McDonalds: Exit Pfalzfeld, exit Waldlaubersheim (2 exits before Bingen); Burger King: exit Rheinböllen.
East
Unsupported.
South
A9 is your friend. At Nürnberg, get on the A6, direction Mannheim/Heilbronn. Follow it until Kreuz Frankenthal, where you have to get onto the A61, direction Mainz/Alzey/Worms. Follow it till Bingen, then refer to below.
In case you're starting out below munich, first travel in that direction. From Munich, get on the A9 till Nürnberg (your route-planner may tell you to use A8, which is always full of traffic-jams). From there, get on the A6, direction Mannheim/Heilbronn. Follow it till Kreuz Frankenthal, where you have to get on the A61. Follow it till Bingen and see below.
Bingen
When reaching Bingen on the A60 or A61, there isn't much you could do wrong. The most common mistake people make is using the wrong exit. Please do not exit at "Bingen-Sponsheim", exit at "Bingen-Mitte". Also from most directions the exists have been recently redesigned to be way too short, have wrong markings etc to be absolutely dangerous and confusing. Please drive SLOWLY.
Download this detailed PDF travel guide and PRINT it. If you forget to print it, you will NEVER make it to the location because it's far too underground to be spotted.

Hotline number during the party in case you get lost: +49 6721 154 494. SERIOUS HARDCORE INFO: The way outlined in the PDF above is the ONE AND ONLY ONE to the location. Do NOT believe your Routing Guide, Google Maps or anything else about other possible ways. None of those ways is usable with a car, and some of those are REALLY dangerous and will get you crashing down a cliff etc.
Plane (Frankfurt/Main FRA)
If you plan to go with a major airline, you will arrive at Frankfurt Airport. This is the real Frankfurt Airport, not to be mixed up with "Frankfurt"-Hahn, which is located 120km away.
Arriving at the Airport, you need to go the regional train station ("Regionalbahnhof"), not the long distance train station. There a few direct connections to Bingen per day, but in most cases you will have to change trains in Mainz. Direct connection is "Regionalbahn" direction Koblenz. Connection with change in Mainz is "S-Bahn S8" direction Wiesbaden. Then change to "Regionalbahn" direction Koblenz in Mainz Hbf (central station). In both cases, exit at "Bingen (Rhein) Hbf" (Central station), NOT "Bingen (Rhein) Stadt)" (City).
Directly in front of the Central Station, there is a bus stop with lots of busses not going to UNDERGROUND CONFERENCE. Pity.
The ticket price from Frankfurt to Bingen is 6 Euro. You have to use the ticket machines labeled with "RMV". The price category ("Preisstufe") to use is at the ticket machine is 5. You can also buy a group ticket for 5 people for 20 Euro.
Plane ("Frankfurt" Hahn HHN)
Frankfurt-Hahn is an abandoned military airport located in the "Hunsrück" mountains. It's just called "Frankfurt" for marketing reasons - in fact it's 120 km away from Frankfurt, in a different state. Luckily it is pretty close to Bingen. And best of all: The cheapo airline Ryanair (and a few others) is going there. If you want to go by plane, make sure you check out if your home city is connected by those airlines.
Going by train
Bingen is connected with one of the most busy railroad lines in Germany. There are direct connections to Bingen from many german cities. All InterCity trains going from Köln to Frankfurt and opposite direction stop at Bingen (Rhein) Hbf (Central Station). Please keep in mind that InterCity Express trains are using the new railroad on the other side of the rhine and do not stop in Bingen.
You may search for trains using the Deutsche Bahn travel planner. As destination choose "Bingen(Rhein) Hbf".
If you plan to go by train, please mail your date/arrival time to uc7@untergrund.net so someone will come and pick you up. Also, on arrival in Bingen, please call the party hotline at +49 6721 154 494 to remind the drunk/stoned/burning organizers who already forgot about everything to go pick you up.
.