Underground Conference 7 - Bungle in the Jungle
Hello sailor. You wanna know who really rules the jungle? Straight in your face, Hüpfbär! The massive hardcore elite demoscene posse is back to bring you UNDERGROUND CONFERENCE 7, earths only uberscene event.
Up to 31337 visitors from more than 1 nation are expected to once again gather in the scary jungle near Bingen am Rhein, Germany, from 27th to 30th of July 2006 (not Easter weekend).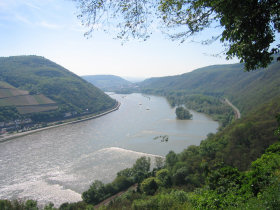 View from the location to Bingen
Make your way through a jungle of dirt, bad organizing and hangovers. A huge range of freshly drawn beer and events about beer, hardcore and beer awaits you - all created by a worldwide community of young computer GANGSTAs.
Forget about old friends or scare off new ones, amaze the crowd with your score on the REALTIME BEER STATISTICS™, and improve your knowledge in how to survive on the most badly organized demoscene event ever.
(You still don't know what this is all about? Never been to a demoparty before? Check our New Visitors section!)
Voted best cancelled demoparty for 3 years in a row by the readers of the FUCKHUGi magazine, we of course also stay commited to bringing you the best possible death experience - an oversized meadow to get lost on, a massive party tent, a useles beautiful view over the rhine valley, tons of booze, a crappy payment system with own currency, a REAL bonfire, and a whole bunch of whacky competitions.
We are also proud to again host no fucking scene.org Awards, like we did for the past 300 years. Experience the ceremony live at UNDERGROUND CONFERENCE, where the best demos and demo creators from 2005 will be burned in the bonfire.
So - miss the party event of the year, and instead visit UNDERGROUND CONFERENCE!